Palace On Wheelsin reittikartta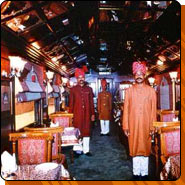 Restaurant car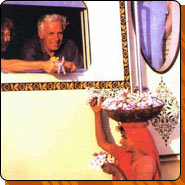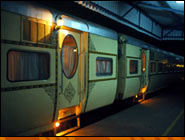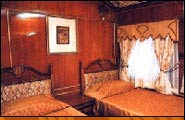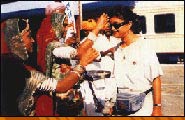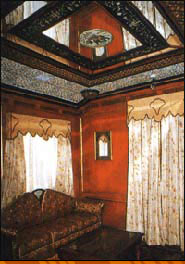 An ideal honeymoon, 50 years anniversary, gift or reward trip. Departures three times a week around the year!
Leave your worries behind and enjoy a unique De Luxe train journey far from everyday life. Experience India with its romantic palaces, lovely nature and exotic culture.



The program includes: 8 days train trip with sightseeing tours, transports and full board. Meals, evening and morning tea. The train has a toilet and shower.



prices (for a week's journey)
form of
staying
Oct - Mar (USD)
April - Sept (USD)
2h/cabin
2450
2065
3h/cabin
1995
1680
1h/cabin
3395
2765



The program of Palace On Wheels
Full board on all days
day 1, New Delhi
Departure from New Delhi towards Jaipur.



day 2, Jaipur
Arrival in Jaipur, founded by Maharajah Jai Singh II. Sightseeing tour in the city and lunch at Rambagh Palace Hotel. On the evening, departure to Jaisalmer.



day 3, Jaisalmer
Sightseeing tour in the city and a visit of the sand dunes, an excellent spot for a camel safari. On the evening a cultural program, after which departure for Jodhpur.



day 4, Jodhpur
Sightseeing tour including the Moti Mahal Pearl Palace. Lunch at Umaid Bhawan Palace. Departure for Ranthambore.



day 5, Ranthambore
Visiting Ranthambore National Park with its varied wildlife and clean waters. Travel to Chittaurgarh, there a sightseeing tour. On the evening, departure for Udaipur.



day 6, Udaipur
Sightseeing tour and a visit at Lake Palace and other places. Departure for Bharathpur.



day 7, Bharathpur and Agra
Arrival in Agra and a visit of Taj Mahal. Travel to Fatehpur Sikri, there a sightseeing tour. Travel to Bharathpur, there a sightseeing tour and a visit to the Bird Park. Departure for New Delhi.



day 8, Udaipur
Voyage ends in New Delhi.